Campagnolo 1997 RECORD TITANIUM hubs HB-30RE & FH-09RE 32H + CS-001T lock ring
Artikelfotos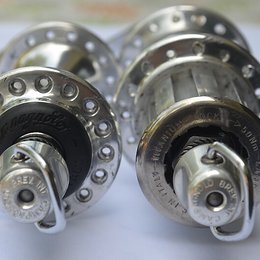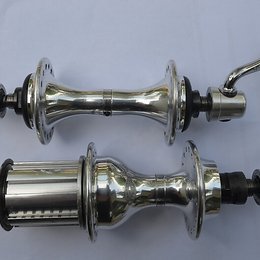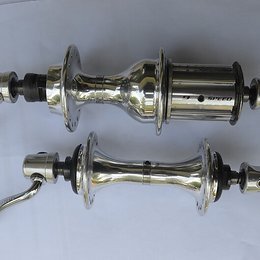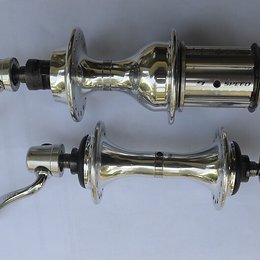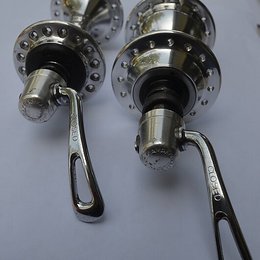 Satz vintage CAMPAGNOLO RECORD TITANUM Naben
1997 Model Campagnolo HB30-RE und Campagnolo FH-09RE
inkl. Schnellspanner
QF-RE121 & QH-RE121
32 Loch Bohrung
inkl. selten Titanium Abschlussrings CS-001T (M26x1)
im top Zustand, Lager drehen butterweich ohne Spiel
Der Artikel sollte vor dem Kauf besichtigt und inspiziert werden.
Hierbei handelt es sich um eine Privatauktion. Alle Angaben in der Artikelbeschreibung erfolgen nach bestem Wissen und Gewissen. Zum Zeitpunkt der Absendung oder Übergabe entspricht der Artikel exakt dem Zustand, wie in der Artikelbeschreibung angeführt. Mit der Abgabe eines Gebotes erklären Sie sich ausdrücklich damit einverstanden auf einen vintage über 20 Jahre alten Artikel mit altersbedingten Spuren aus Garagenfund, ohne weitergehende Gewährleistung, zu bieten. Ich gewähre keine Garantie oder Rücknahme! Es werden der Gewährleistungsfall, Nachbesserung, Minderung sowie Reparatur oder Umtausch einvernehmlich ausgeschlossen.
vintage set CAMPAGNOLO RECORD TITANIUM hubs from 1997
models HB-30RE & FH-09RE with 32 holes
the set is complete with original quick releases (QF-RE121 & QH-RE121)
includes a very rare titanium CS-001T lock ring M26x1
superb condition, no play, no torn drilling for spokes
IMPORTANT: This over 25 years old vintage article is no longer in production, it is not sold as new or anything close to an article from a factory production. It has been used and therefore it sold as second hand without any warranty and any rights to return or repair.
Verkäufer jber8197

5
/5 basierend auf
12
Bewertungen.

jber8197
Response in: 5 h
Registered since:
21.05.2020
| | |
| --- | --- |
| Current viewers | 1 |
| Published | 07.10.2021 22:18 |
| Expires | 07.10.2022 22:18 |
| Views | 1.618 × |
| Quantity | 1 |
| Brand | Campagnolo |
| Condition | gebraucht |
| Shipping Costs | 5 |
| Pickup | Yes |
| Location | München |
| Color | silber chrome |
| Number of Spokes (Front) | 32 |
| Number of Spokes (Rear) | 32 |
| Hub Width (Front) | 100 mm |
| Hub Width (Rear) | 130 mm |
| Material | Aluminium/Titanium |
| Dealer | no |
| Country | Deutschland |
| Weight | 563 |
| Axle Type | Schnellspanner |